On starting a new poetry journal: Touch the Donkey
Submitted by clelia on July 4, 2014 - 10:08am
Earlier this year, I was watching my daily array of late night talk shows, and witnessed an improv between Seth Meyers and Fred Armisen on Late Night with Seth Meyers that described a new (fictional) game, "Touch the Donkey." I immediately thought to myself: that would be a great name for a magazine.
In April, 2014, I quietly produced the first issue of the chapbook-sized poetry journal Touch the Donkey, releasing the information as best I could while keeping my name out of it. Work was solicited, and copies were mailed out to above/ground press subscribers, as well as a couple of dozen others. Even close friends weren't entirely sure it was something produced by me. Why the secrecy? I'm not entirely sure: I wanted to produce something engaging, but didn't want to end up producing something that got lost in the mix of everything else that I do. I mean, I seem to be doing quite enough as it is.
Since then, more than a few have commented on the foolishness of the enterprise: founding a new poetry journal so quickly after the arrival of our newborn. "YOU DID WHAT?" American poet Jessica Smith sent over email, a few sentences in all caps, responding to the fact that I'd started a new magazine with a four-month-old in the house. Madness, certainly. Why did I do this? Why did I start a new journal at all? One might argue the fear of retreating into the household over the next couple of years with domestic matters, starting full-time with Rose once Christine returns to work at the end of her maternity leave, was by itself an unconscious trigger. How can I continue to engage with the world? As though, somehow, above/ground press, ottawater, Chaudiere Books, the "Tuesday poem" series on the dusie blog, the ottawa poetry newsletter, the semi-annual ottawa small press book fair, seventeen seconds: a journal of poetry and poetics, The Factory Reading Series and the daily blog aren't enough. Let alone my own work in journals, both print and online, and the fact that this year alone I've three trade books out: short fiction, essays and a collection of poetry. Might they forget me?
You can see, perhaps, why the idea of starting a new journal might be considered to be a form of lunacy.
I've been in publishing long enough to know that a new magazine or journal requires a number of things to be able to succeed, and one of those things is a clear idea of what the purpose or mandate of that journal might be. When new journals pop up, I don't think it's necessarily bad for the first issue or two to flail about, but if you haven't figured it out by the third issue, I really don't think you're going to. There are those that might recall Toronto's mid-90s Shift magazine, which seemed to be all over the place for the first couple of years. Perhaps the title should have warned us: it might have starting as literary and pop culture glossy, but within two or three years it had evolved into an even glossier web culture journal, abandoning its literary and pop culture origins altogether.
The journals that have succeeded as journals are the ones that have a clear mandate early on. The mandate might evolve, expand and shift, while remaining true to a core series of ideas. Some examples might include Arc Poetry Magazine, The Capilano Review, filling Station, DESCANT, Peter O'Toole: a magazine of one-line poems, The New Quarterly, RAMPIKE, The Coming Envelope and Matrix magazine. I know I could spend years between looking at any of these journals, and still pick up a new issue with a sense of what I was entering into. This is a good thing.
I've produced for than a handful of journals over the past two decades. STANZAS, my freely-distributed long poem chapbook journal based on George Bowering's IMAGO lasted some forty-five issues or so before it seemed to simply drift away. Missing Jacket magazine was a mid-1990s writing and visual arts journal featuring interviews, new writing, columns, comics and visual art features that made it to three or four issues before the work to sell enough to make the journal break even was simply too much for a single person. seventeen seconds: a journal of poetry and poetics exists as a follow-up to the co-edited Poetics.ca that I ran with Stephen Brockwell, both of which work to engage critically with a variety of poetics across North America. The annual Ottawa poetry pdf journal, ottawater, was founded to coincide with the 150th anniversary of the City of Ottawa, and publishes work and interviews exclusively with writers who currently live, or have previously lived, in Ottawa or the Ottawa area. The Peter F. Yacht Club, most of which I've produced, exists as a forum for our occasional writers group, will most likely have a twenty-first issue before the year is out. Every journal, and arguably, every publisher, requires an argument of some sort, even if it isn't articulated. What does your journal/press do that is different from everyone and everything else? Otherwise, you are simply repeating.
Why start something new? Apart from the obvious "why not?" I really haven't a sufficient answer.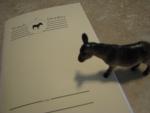 Part of the argument for the journal is to solicit a range of more experimental writing from a mix of Canadian vs. International, and emerging vs. established poets that I am excited by. Who is on my wish list of must-haves? Given the work I've done prior in a variety of venues, most names will certainly be familiar, and yet, others might be appearing in something of mine for the first time. Who else is out there? Another part of the argument for the journal is the awareness that there are certain writers that are rarely seen in literary journals in Canada. Journals such as the late, lamented boo magazine, The Gig and Queen Street Quarterly each presented work by Canadian experimental writers that really don't publish that often. When is the last time you saw work by Dorothy Trujillo Lusk or John Barlow in a literary journal? When is the last time you saw work by Lise Downe? For whatever reason, some of the best work being produced isn't being engaged with enough by the literary journals. I suppose, as an editor, in many ways, I respond as a reader first: there are various individuals and groups across Canada that I would love to see more work from, as well as a variety of writers throughout the United States and further afield I've been learning, and slowly starting to engage; and if one of the ways that might happen is through me soliciting such for the sake of publishing, then that's what I'm going to do.
The first issue features new writing by Americans and Canadians alike: Camille Martin, Eric Baus, Hailey Higdon, rob mclennan, Norma Cole, Elizabeth Robinson, Rachel Moritz, Gil McElroy and Pattie McCarthy. The second issue, due out mid-July, features new writing by Julie Carr, Catherine Wagner, Susanne Dyckman, Pearl Pirie, David Peter Clark, Susan Holbrook, Phil Hall and Robert Swereda. The third issue, scheduled for October, has already accepted work by Gil McElroy, j/j hastain, derek beaulieu, Megan Kaminski, Roland Prevost, Emily Ursuliak and Susan Briante. As a further motivator, I've started working on a series of interviews as bonus on-line content, each focusing on and around various contributors' pieces published in the journal so far, and up to the announcement of the second issue I've posted interviews with Gil McElroy, Camille Martin, Pattie McCarthy and Eric Baus, all of whom happen to be on my shortlist of favourite North American contemporary poets. Over the past few weeks, I've been furiously working on interviews to coincide with the second and third issues, including interviews with Julie Carr, derek beaulieu, Catherine Wagner, Megan Kaminski, Susanne Dyckman, Pearl Pirie, David Peter Clark, Roland Prevost, Emily Ursuliak, Susan Briante and Susan Holbrook, most of whom I actually haven't even seen interviews with before. There is so much work being produced, and so little of it is actually discussed.
Still: madness, I know. I told myself years ago that if any of this became no longer fun, I should really stop doing it, and try something else. But after twenty-plus years, I just don't see that happening.
---
Related
item
from
our
archives