A Fond Farewell to Dead (G)end(er) Magazine
Submitted by erin on November 20, 2012 - 9:05pm
Last month I ran into Lindsay Cahill, founder of the Dead (G)end(er) biannual literary magazine, and I asked her about the details for the launch of the fourth issue. I had thought that dg was a quarterly magazine and it was its one year anniversary. Lindsay corrected me, reminding me dg is a biannual publication, so it's already been two years. I couldn't believe it had been that long since the launch of the first issue of dg, which featured many local young artists, including myself, from the Niagara region mostly, but a few artists from Toronto as well. Since then, the third and fourth issues received a revamped look and a sleeker design than the previous two issues and have featured artists from around the world. And so I gave my congrats and best wishes to future issues, but my words of encouragement were met with a sad smile and disappointing news: the fourth issue would be dg's last.
Yet, on the Saturday night launch of the fourth issue, Lindsay asked the audience in the Niagara Artists Centre that the night not be a night of mourning, but rather of celebration. Despite the fourth issue being dg's last, it should also be considered a milestone in the literary history of St. Catharines. As Gregory Betts said that night, St. Catharines is now without a literary magazine. Yet, this does not mean it is St. Catharines' last; rather, perhaps the night and this last issue will motivate others to leave St. Catharines without a literary magazine for only a short while.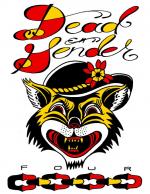 The night of the launch was short but sweet, with just a small fraction of the fourth issue's contributors reading from their work featured in the magazine. Although the readers were few, the audience was many, making use of all the chairs that the NAC had, still leaving a number of the audience standing. The night began with Lindsay welcoming everyone and saying a few words about dg and the places of the world that the magazine has received submissions from — quite literally with a map of the world beside her and thumbtacks pinned to the countries, cities, provinces and states that the magazine has featured over its two-year run. Behind her, a screen flickered bending white lines surrounded by red, blue, green and black, an untitled video loop by Krista Peterson. The mesmerizing loop seemed to loom above Lindsay and the readers for the first half of the night, setting a poetic ambiance of attention and attraction towards the front of the room.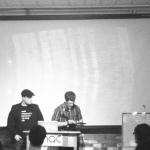 Keeping the welcome speech short and encouraging the audience to be cheerful, Lindsay introduced the first pair of readers, Craig Dodman and Edward Edmonds, to read from their collaborative poem, "Kinetics." To introduce their collaborative poem, Craig and Ed each read a poem of theirs that later became the final product. Blending Ed's poem, inspired by the resilient and rapidly-growing Kudzu vine, and Craig's poem, from a project of his concerned with nuclear physics and language, the reading of "Kinetics" certainly contained lines that hurled forward, Ed and Craig at times reading over the other, creating a tense and…kinetic reading. The third reader was Madison Brown, who read from a select few of her poems that were featured in the magazine: "Grandma's Spot" and "your animus," and a few from her journal: what the heck, the more the merrier. Her poems consisted of Cartesian graphs complete with the x and y axis and exes, a Freudian mother-son relationship and eggs.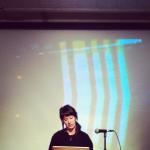 And just like that, before you could even blink, the first half of the night was already gone. During the first half, more and more people kept on piling in, so that by the intermission the NAC went from being packed to absolutely crowded. Since I hadn't sat down for long and didn't need to stretch out my legs, I decided it best to sit tight and guard my chair and watch from the back of the room as people mingled, circulating from the bar to the seating area, hunting for seats, to the front desk where the fourth and third issues of dg were being sold. The crowd was lively, excited, and all were friends. During the intermission, the people roaming about weren't just a restless audience, or just an audience in particular, but rather a community that had gotten together to show the support that St. Catharines' literary magazine deserves. To skip slightly ahead, when Gregory Betts was introduced as the night's surprise reader, Gregory told a story of his first time reading in St. Catharines, which was at the Merchant Alehouse, and his audience consisted of one person, who was sitting at the bar, having a drink, unaware that s/he was an audience of a poetry reading. Now, as a result of the thriving literary community that has just exploded in St. Catharines over the years, drastically spreading like Kudzu vine, there may be still unaware audiences, but there are certainly no empty desolate readings, dg being just one example out of many that demonstrate this growth.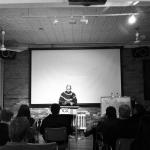 The night continued with a short film by Julia Prudhomme, entitlted spin ten times in a circle. The film was simply a long shot of a group of white pedestals in an open field with columns of varying timeframes of appearing and disappearing ballerinas spinning in a circle on the pedestals; dreamlike and haunting. Gregory's reading consisted of responses he had received from his Facebook status "what's your favourite line of poetry." He modified the responses to create a few poems; from roses are red and Poe to Madonna and the Beatles, the four brief poems covered quite a lot of ground.
The night ended with a three-song performance from Oak and Elm. Mandolin, banjo, guitar, bongos, tambourine, shakers and a bean maraca quickly populated the front of the room and within a very short period after being announced, Oak and Elm performed. With an upbeat traveling song, a sombre folky-type ballad and a floor-stomping clap-along romp to close the night, Oak and Elm provided a fitting brief musical hurrah and goodbye to dg.
And so that was that. No one was sad. No one was disappointed. There was no talk about the end of the world. There was only the ecstatic aura of literary satisfaction that hung over this unfortunate end to a great local magazine.
Flashback to that month ago when I ran into Lindsay. After she had told me about dg's soon approaching end, I asked her "wha-why-wha-how-what's next, if there is anything next?" To which she replied, "I have something in mind." Ah, and vague statements always peak the most interest. What could she mean? Well, we'll have to wait and see. She did reveal that she is hoping to "give a talk at Brock next semester for any of the students who'd be interested in hearing about how they might go about starting their own mag. I'd tell them all the dumb mistakes I made first starting off so they can avoid them, and different ways they can grow an audience. Niagara deserves a mag!"
Until then, I bid a fond farewell to Dead (G)end(er) magazine. Although we'll never see its fifth issue, dg itself will still be around.
Ordering information for the fourth issue should soon be posted on the dg blog. But in the meantime, why don't you explore the blog and dig up the magazine's rich history?


A special bonus for Niagara residents: Enter to win $50 at the bookstore of your choice! Click here for details.


---
Related
item
from
our
archives