Profile of Teksteditions, with a few questions
Submitted by clelia on December 18, 2012 - 9:39am
After years of producing trade books of poetry, fiction and non-fiction, Beverley Daurio shifted her Toronto-based literary publishing company, The Mercury Press, into a new project with author Richard Truhlar, becoming Teksteditions, shifting their focus from trade books printed in a printer to books available in both electronic format and print-on-demand. As they write on the Teksteditions website:
From west-end Toronto, Ontario, not far from the Dundas West subway station, two deeply experienced editors who love books will publish texts that fit with their unique perspectives. Working from respect for the traditions and the avant garde in literature, books from Teksteditions display the convergence of likes and loves of both exciting revolutions and collaboration.
Our intention is to curate excellence in long-form writing, and working in an innovative way with new electronic possibilities, offering electronic book publishing, in both POD (physical books) and digital versions, through our partners.
Between the two editor/publishers, the press begins with an impressive list of histories and accomplishments. Writer and publisher Daurio has been long known as one of the strongest fiction editors in the country and has run The Mercury Press as editor and publisher for many years. One of the strengths of the press has been that it publishes more experimental works than commercial works, and a list of Mercury titles would include important books by Nicole Brossard, Alana Wilcox, Gary Barwin, Stuart Ross, Gerry Shikatani, Richard Truhlar, ,Veronica Ross, Sharon Harris, Claire Huot and Gail Scott. Until the mid-1990s, Daurio was editor-in-chief of paragraph: The Canadian Fiction Review and Poetry Canada Review, as well as the editor of several anthologies. Her own work has been published by a variety of presses. Hell & Other Novels was published by Coach House/Talon, Justice was published by Moonstone Press) and If Summer Had a Knife was published by Woslak and Wynn. Truhlar, on the other hand, is the author of poetry, fiction, text-sound and musical works, and his work has been published and performed internationally. He is the author of nine trade books, is a past co-publisher/editor of the collaborative Underwich Editions, as well as Phenomenon Press, and spent more than 20 years as the producer of the Centrediscs recording label at the Canadian Music Centre.
Their opening salvo was at an event held in December, 2011, as they launched new titles by Brian Dedora, Gerry Shikatani, Richard Truhlar, Opal L. Nations and former Globe and Mail jazz critic Mark Miller.
In May of 2012, they held an event to celebrate the publication of an anthology of new fiction, Permission to Speak, and Guy Ewing's poetry collection, Earth Becoming Sky. The event featured "rare readings" by Brian Dedora, Guy Ewing, Lesley McAllister and former Owen Sound member Michael Dean. On October 30, they celebrated their first anniversary with another launch, this time for a series of books including one by small press poet Opal Louis Nations. The day before the launch, Stuart Ross talked about the event (and storm) on his blog:
There's a storm a-comin'. Should arrive here in Cobourg in the next few hours. Will it flood my basement? I've been heaping all the cardboard boxes onto tables and plastic milk crates down there.
But if the storm passes in time, and doesn't leave too much destruction behind, then I'm heading to Toronto tomorrow for the first-anniversary launch of Teksteditions, the sort of heir apparent to The Mercury Press, run by Richard Truhlar and Mercury's Beverley Daurio. Teksteditions has done some very neat things already: uncompromising works by Brian Dedora, Guy Ewing, and — the guy I've come to talk about — Opal Louis Nations.
Beverley Daurio and Richard Truhlar were good enough to collaboratively answer a couple of questions about the press.
rob mclennan:
In the fall of 2011, Beverley Daurio's The Mercury Press shifted into Beverley Daurio and Richard Truhlar's Teksteditions, shifting the focus from books printed by a printing house to books available in both electronic format and print-on-demand. After the years of literary trade publishing that Daurio did through The Mercury Press, what precipitated the change?
Teksteditions:
Teksteditions (TE) is an amalgam of the concerns, backgrounds and aesthetics of both Beverley Daurio and Richard Truhlar. Richard had been thinking of a new paradigm for publishing, and for over two years we researched, discussed and consulted over coffee, taking into account the negative developments we saw occurring within the industry. Richard suggested to Beverley that they join forces and TE is the result. TE has now been publishing for one year (!), with 11 new titles in print and a solid year planned for 2013. Four of our 2011-2012 titles were co-published with The Mercury Press.
Our focus is rather different than suggested by the question. Our print-on-demand (POD) books are printed by actual printers. POD has changed a lot since the early days, and the quality is the same as from, say, Marquis, where many of Mercury's books have been printed over past years. Many job and trade printers like Marquis also make the same technology available for short runs (say up to 600 or more copies) and print in the same way as we are doing now with TE.
Essentially, TE's focus is on quality literary work, in-depth and concentrated editing, contextual cover design that reflects the work, and strong attention to page design. TE has two editorial directors. TE is open to literary writing, essays, creative and biographical non-fiction, and also to mystery, science fiction, speculative fiction and horror.
TE's books are more widely available than most trade publishers' books are. TE's books can be purchased easily anywhere in the US, in England, Australia, all over Europe — really anywhere people have access to the Internet. We can produce books in hardcover (cloth with paper jackets or casebound), softcover, chapbooks, in full colour or black and white.  The printing is superb. We also publish our books electronically as epub files and pdfs.
For more information please visit us at www.teksteditions.com
 
rm:
Electronic publishing is something that small Canadian literary publishers have been experimenting with for years, with varying degrees of success. Who were some of your models in the industry, or were there even any? Why do you think it has taken so long for small presses to engage with electronic publishing, and why did you decide to engage with such when you did?
TE:
Most literary trade publishers in Canada are massively overworked. The small amount of money involved usually means that there are not enough resources on any level. At the same time, the Literary Press Group has been providing expert advice as well as seminars and panels to its member publishers for years, and the Association of Canadian Publishers has been ahead of the game in the same way.
Electronic publishing is not as simple as it sounds. Formats and platforms change frequently, and the investment to produce backlists in new formats is considerable. Another issue is the multiple formats that backlist books are in, currently. For some titles there will be usable files, for some the entire book will have to be re-scanned. For most houses this is a major undertaking that is very costly. Our feeling is that as usual our Canadian literary publishers are far more on top of this than may be generally understood.
 
rm:
What have you learned over the space of your first year, and how successful do you think you have been?
TE:
We've learned a great deal about new technologies. We now have smooth workflow in many formats and have made our first titles available internationally through major online retailers. We've learned that the new paradigm we're pioneering in publishing is perfect for the unlimited things we want to do.
We are also balancing publishing with our writing lives — Richard is the author of nine books of fiction and poetry, most recently Infinite Anatomies. Beverley is a widely published essayist, literary journalist, as well as a dance critic and the author of three books, most recently Hell & Other Novels. We have both recently contributed to fiction anthologies and have new projects in the works.
We've learned also how excellent, inspiring and fun it is to be editorial partners, combining our different strengths and perspectives in Teksteditions.
rm:
In many ways, the Teksteditions list is an extension of the list of The Mercury Press, publishing new works by authors such as Brian Dedora, Gerry Shikatani, Richard Truhlar, Opal L. Nations and Mark Miller. One element of that has long existed in small publishing that doesn't necessarily translate to larger publishers is author loyalty, and its impressive (but not surprising) to see that Teksteditions is continuing a fine tradition. How open is the press to manuscripts from new authors? Where do you see the press in, say, another five years from now, or even ten years?
TE:
TE of course reflects the continuing interests of Beverley Daurio, as co-director of TE, so it's natural — when they are willing to venture into this new experimental world with us — to seek to continue working with writers whose work we deeply value and respect. And Mercury backlist titles continue to be released in new formats.
TE has an eclectic and broad range, including Opal Nations' work (which never appeared in full book form through Mercury) and established and new writers whose work Richard and Beverley have published — like that of Joshua W. James — and are really looking forward to publishing, such as Nick Power's and Eddie Mumford's. TE is also publishing innovative anthologies, a select series in obscure Victorian literature, and will be exploring all kinds of different writing in our forthcoming lists.
TE is not currently open to unsolicited manuscripts; all of the books are solicited.
We hope that in five or ten years the house will be established, our sales will be high enough to partly support us and the writers and that it will continue to be fun as well as intellectually and aesthetically challenging.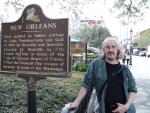 Born in Ottawa, Canada's glorious capital city, rob mclennan currently lives in Ottawa. The author of more than 20 trade books of poetry, fiction and non-fiction, he won the John Newlove Poetry Award in 2011, and his most recent titles are the poetry collections Songs for little sleep (Obvious Epiphanies, 2012), grief notes: (BlazeVOX [books], 2012), A (short) history of l. (BuschekBooks, 2011), Glengarry (Talonbooks, 2011) and kate street (Moira, 2011) and a second novel, missing persons (2009). An editor and publisher, he runs above/ground press, Chaudiere Books (with Jennifer Mulligan), The Garneau Review (ottawater.com/garneaureview), seventeen seconds: a journal of poetry and poetics (ottawater.com/seventeenseconds) and the Ottawa poetry pdf annual ottawater (ottawater.com). He spent the 2007-8 academic year in Edmonton as writer-in-residence at the University of Alberta and regularly posts reviews, essays, interviews and other notices at robmclennan.blogspot.com.
Photo of rob mclennan by Stephen Brockwell
Read Open Book's Proust Questionnaire, with Mark Frutkin.
Related
item
from
our
archives